One of the images of God which most potently strikes my heart (as well as my head) is that of King. See, for those who know me, I tend to talk a lot about monarchy. It's one of my "ideals" is some form of Monarchy as the "perfect" government. The thing is, I don't actually believe it's possible.
But when I think of a knight swearing fealty to his King and offering his life for his country, I can't help thinking that we need a little more of that in our tepid (or do I mean torpid? torrid?) hum-drum, pathetic, exhausting political system.
There is, however, an opportunity for me to swear loyalty to a King...and be willing to die for a cause. That King is God.
I once attended a youth day here in Milwaukee where we had Adoration, a Eucharistic procession and Benediction. Now all of us know how much I like architecture and think that it lends itself to worship, but here we were in the old Field-house of an all girls college. It wasn't an amazing building, but the experience blew me away. More so than any experience up to that point, it seemed like the Great Hall of a King. Does it not strike you as it struck me that it would be hard to get 1000 people no matter what age to be silent for an extended period of time? Well, I was amazed that teenagers could keep it up. And yet, they were there for their King, because we all need someone to give us orders, but not only to give us orders but to have a King's affection for his men. The youth in that field-house knew what it was like to need a King.
Since then, Adoration has been something different for me. It is more about putting myself completely at His service. "You are my King, you are the Ruler of my Life! Give me my orders for I swear my fealty to your terrible and Divine Majesty."
Every Good King has a Queen, and the Knights first duty is to defend her honour. We as Catholics happen to have the Best Ever Queen. She is Princess, Queen-Mother, and Queen-Consort all rolled into one. She is the Virgin-Mother, the Contradiction and because of her Mystery she is even more fascinating and we shall defend her.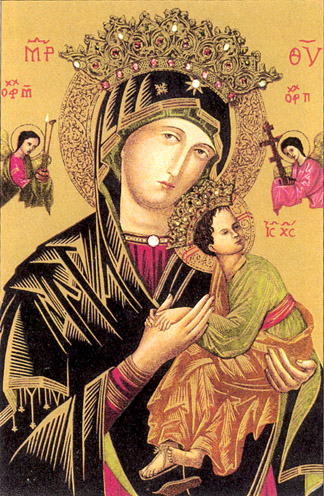 Her feast is today, Aug. 22. Queenship of Mary, I think it's called, and I as a Divine Monarchist am pleased that the Daughter, Mother and Bride of my Divine Monarch has been crowned my Queen and that that crown can and should rule over my life and my love.